6 September 2019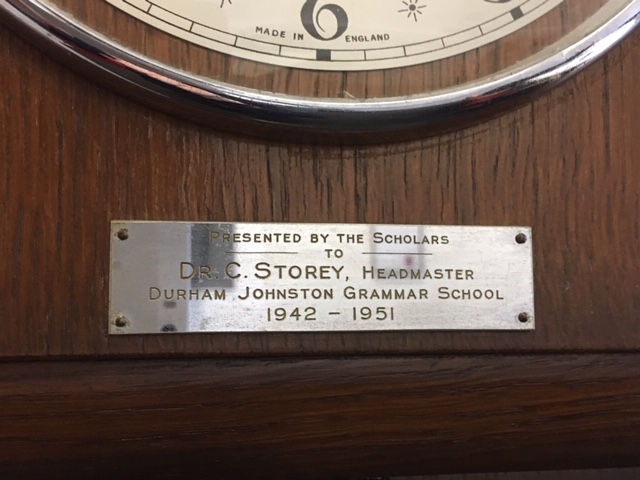 Dr. Christopher Storey was Headmaster of Durham Johnston between 1942 and 1951. Born in Newcastle, he studied French at Durham University, before going on to complete a P.H.D at the University of Strasbourg. He taught in London, before moving back to the North East to become Durham Johnston's third Headmaster. After leaving Durham, he went on to be a successful Head of Culford School, retiring in 1971.
When he left Durham Johnston students presented him a clock to thank him for his work at the school. On Thursday, his nephew returned the clock to the school, 68 years after he (and it) had left. It now takes pride of place in the main school hall, next to a desk salvaged from Whinney Hill and the school's war memorial. Dr. Storey was Headmaster when the two World War Two panels were dedicated at a service led by the Bishop of Durham in 1947.
We are unsure what type of clock it is. A small Grandfather? A Grandmother? If there are any keen horologists reading this, please get in touch! Observant readers will note that the clock has stopped at 2.38 p.m. A time of anticipation and excitement for all those working or studying in a school where the day finishes at 2.45 p.m.
Update: We have been informed that it is a Grandmother clock which would usually be placed on a plinth.