29 November 2019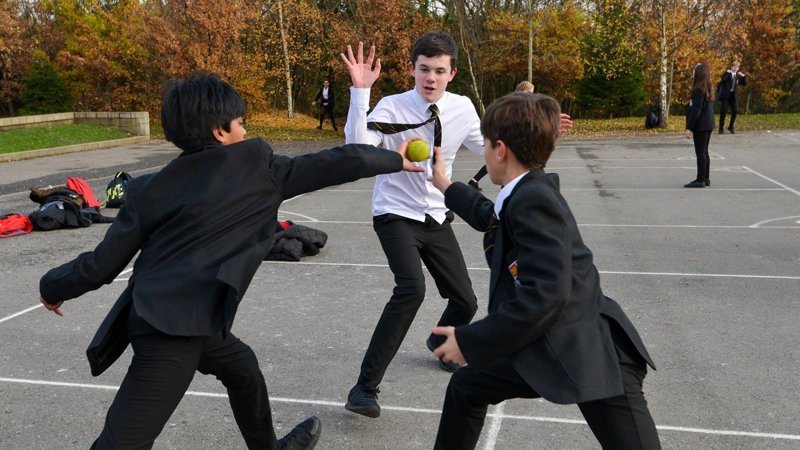 As I noted on Friday 22nd November 2019, we are very proud to have been recognised as the 'Sunday Times' Comprehensive School of the Year 2019-20.' The following article is taken from the more detailed coverage published on Sunday.
Comprehensive School of the Year: Durham Johnston Comprehensive School
Great relationships between pupils and teachers who know them well are key to consistently good results, writes Sue Leonard
It's not surprising that families buy a house in catchment or take their children out of private school to send them to Durham Johnston Comprehensive School. Since 2013, this northern powerhouse in the cathedral city of Durham has sent 82 of its students to Oxford and Cambridge – 14 this year alone. Students put in a typically excellent A-level performance this summer with 77% of grades awarded A*/B, a record 51% at A*/A. An unsurpassed 56 students achieved AAA or better in all three subjects.
Measured on A*/B performance, these results place Durham Johnston 56th in the UK – and 37th for A*/A results – beating more than 100 selective grammars and deservedly winning our Comprehensive School of the Year award. An impressive 95% of leavers headed to university, the majority to institutions in the elite Russell Group. At GCSE, 36.1% of grades achieved 9-7 (equivalent to the former A*/A).
Andrew O'Sullivan, who moved up from his deputy role in January 2018 to become the ninth head, puts Durham Johnston's consistently high attainment down to trusting what works: collective endeavour and excellent staff who know their students well. "There are some fundamental things in education that never change," says O'Sullivan, who has spent all of his 23-year teaching career at the school. "If you look at any success a child achieves, at the heart of that is the relationship with the teacher and I think by going off on all kinds of other tangents, education sometimes shoots itself in the foot. If you want a student to love school it is that personal care and attention, the relationship with the teacher, that is at the heart of all success.
The school was founded with a bequest from the Scottish agricultural chemist and mineralogist James Finlay Weir Johnston, a pioneering educator who was also influential in the development of Durham University and the colleges, which became Newcastle University, The Johnston School opened in 1901 with 13 pupils from a range of backgrounds. Over the years it has been a mixed grammar school, a technical school then a boys' grammar. It became a comprehensive school in 1979.
Today Durham Johnston, which is significantly oversubscribed, has 1,665 pupils and draws its 270-strong year 7 intake from an ever-changing catchment area, which this year included 37 primary schools. The school population is diverse, about half from more affluent families, including the children of university academics, and half from more economically challenged areas including former mining communities. There is more competition for places in the sixth form, when there is a new influx of students from other state and independent schools. Everyone is interviewed, including Durham Johnston students, and entry is dependent on securing a minimum of at least five grades at 9-4 (A*-C) in five different subjects including at least three grades at 9-6 (A*-B), and meeting the course entry grades.
Overall, 16% of students qualify for the pupil premium for disadvantaged children. Six of those who went to Oxbridge this year were from the bottom 40% of postcodes based on deprivation. Approximately ten per cent of pupils speak English as a second language.
Rated outstanding in all areas by inspectors in 2015, Durham Johnston takes the comprehensive part of its name very seriously. "It is the idea that each student, as soon as they cross the school threshold in the morning are equal and they have all of the same opportunities." says O'Sullivan, who grew up on Hawkesley council estate in Birmingham and went to the local comprehensive.
"That is what drives the school and that social justice element is really important because the perceived top end of the school, the Oxbridge stuff, those great results, all of it matters – but on a daily basis we are also poverty-proofing the day and providing a breakfast club. I think the real thing that motivates teachers here is doing the best for all students and giving them opportunities. Everyone deserves that chance and it shouldn't be that by accident of birth some people are denied it."
O'Sullivan, whose parents left school at 14, relished school. "My background is not a privileged one. Seeing how a good comprehensive works when I was young, being given sporting chances, musical chances, teachers that knew me well and wanted to push me, that is what I have always wanted to replicate as a teacher and that is what our teachers want to replicate because when someone walks through our door they potentially bring all kinds of baggage with them. Our job is to see beyond that."
Durham Johnston's commitment to academic excellence and social justice was praised by the former prime minister Gordon Brown when he held a cabinet meeting and public consultation at the school in 2010. It was the first cabinet meeting in the northeast, and the first to be held in a school. More than 170 pupils take part in the orchestra or school ensembles and at least 250 are involved in sport, upholding the school's competitive track record in national competitions. Durham Johnston was recently named among the top 30 sporting state schools in the UK. There are language, skiing and sports trips to Spain, France, Austria and Germany. Authors visit the school as part of Durham Book Festival and the school's annual Festival of Culture, and in addition to subject-specific talks after school, students are invited to events at Durham University.
"I am proud, impressed, often surprised at the sheer range of things they do and how well they do them," says O'Sullivan, who responded to students' concerns about single-use plastic cutlery and hot food takeaway packaging by removing them from its catering provision. Year 12 and 13 students will be key figures at the Young People's Vision for Climate Change regional conference in January. Making a difference to the school and community is part of the ethos at Durham Johnston, which has a strong tradition of fundraising and charitable activities. Students are encouraged to volunteer and community service is a key part of the enrichment programme in the sixth form.
"We want them to have a sense they are part of society, part of a community and all the things that come with that: tolerance, kindness, respect, awareness of people being different to them," says O'Sullivan, who joined as a newly qualified history teacher, encouraged to apply by his wife, a former Durham Johnston pupil in the 1980s. "I would happily send my child here" says the University of Liverpool history graduate. He still teaches the subject at A-level. "I think if you are a head teacher, don't ask people to do things you can't do or wouldn't do yourself," says O'Sullivan.
He believes the idea that there is only one way to do things in schools is fundamentally wrong. "What really matters is student success. We give our teachers quite a significant amount of professional independence and because of that we attract able people who want to stay with us. We don't dictate what teachers do in the classroom. The payback from that is that they contribute or commit to a wide variety of curricular or super-curricular activities as well."
The same goes for professional development. "We have dedicated the vast majority of our time to subject specialism. If teachers work together as a department and have access to the best research, the best resources, then that's how improvement takes place," he says.
The school operated on a split site for 30 years until it was rebuilt on one site in 2009 for 1,200 pupils. Facilities include a large cricket pitch, sports hall and activity studio. However, the growth in the school roll means it is all a bit of a squeeze these days. O'Sullivan would like to expand the school and meet the ever-growing demand for places. "We do what we do on a very tight budget so we don't have the facility to build anything new. The No1 issue in education is funding. We could offer more to a greater number of children if we were actually to have more capacity to build and develop the school."
Having worked his way up at Durham Johnston, the head teacher knows exactly what it takes to create a successful school and is full of praise for his "clever, dedicated, hard-working" colleagues, many of whom, like him, have put in years of service at the school and are experienced at teaching children with a wide range of academic ability. "They know the school well but they have that desire to really keep improving things for our students," says O'Sullivan. "I just think we are doing a number of things very well. It is not that the things that we are doing are fabulous new or original ideas.
"The thing is, to do things well in education – consistently – is really hard."